How to trade HTHB Homeless Binance Token
HTHB runs on Binance Smart Chain, and has liquidity at the Pancakeswap DEX.
You can swap HTHB with BUSD, BNB, CAKE and other tokens at Pancakeswap:
https://exchange.pancakeswap.finance/#/swap?outputCurrency=0x62eab2c299c991391e707b79fe4a2f59bbdad805
You must set slippage to 6.1-10% because of the 6% tx fee! Also check the Price Impact to avoid doing unfavorable swaps.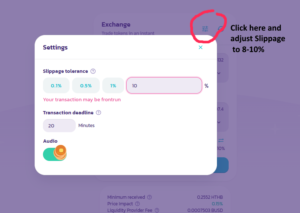 ---
You can import HTHB to your tokenlist on Pancakeswap:
Select token
Search for contract address 0x62EaB2c299C991391e707b79Fe4a2F59bBDAd805 and click Import

Tick "I understand" and click Import

---
Adding liquidity to trading pairs