How to trade HTHB Homeless Binance Token
HTHB runs on Binance Smart Chain, and has liquidity at the Pancakeswap DEX.
You can swap HTHB with BUSD, BNB, CAKE and other tokens at Pancakeswap: https://exchange.pancakeswap.finance/#/swap…
You must set slippage to 8-10% because of the 6% tx fee! Also check the Price Impact to avoid doing unfavorable swaps.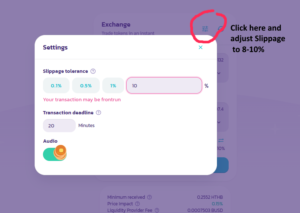 You can add liquidity to HTHB-BUSD on Pancakeswap: exchange.pancakeswap.finance/#/add…
When you add liquidity you add equal amounts of HTHB and the basepair in $USD value.