USDC, TRX, LTC and DOGE pairs. In addition HTH have Liquidity pools in EMRALS, XGX, USDT, FOXD and BTC pairs.
Udonex: Sign up using our Marketmaker link: https://ex.udonex.com/register?refid=ID930068CE50
TRX, USDT and DOGE pairs ⚠️(We have received concerns about Udonex blocking people in Discord)
How to trade HTHB Homeless Binance Token
You can swap HTHB with BUSD, BNB, CAKE and other tokens at Pancakeswap: https://exchange.pancakeswap.finance/#/swap…
You must set slippage to 8-10% because of the 6% tx fee! Also check the Price Impact to avoid doing unfavorable swaps.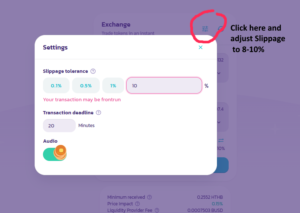 You can add liquidity to HTHB-BUSD on Pancakeswap: exchange.pancakeswap.finance/#/add…