Food for 600 homeless people through Ed Forchion's Feed The People Program
Hi All!!! Today was a long day, meeting with Ed Forchion & meeting up with @KryptoKittyKat & @GOATED – Kuberbitcoin to meet for the first time, talk a little HTH & hangout..
So onto today's adventure!!
@johnny5625-HTHW & myself went so to Trenton, NJ to the Ed Forchion's place of business & briefly spoke with this busy entrepreneur/activist called NJWEEDMAN. I must say, meeting him was a dream come true as he is one of my heroes in life, but aside from that, the conversations went great! After we presented Ed with our donation check, we spoke a little business & both HTH & Ed are extremely proud & excited about the things to come…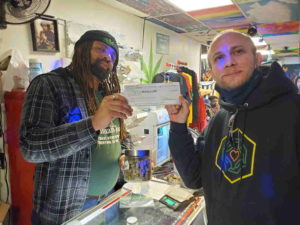 HTH is able to feed over 600 people!!! That is over 600 homeless people!!! Ed broke down the totals he pays for food & yes, you read this number correctly!!! How amazing is that??!!!!!
Ed hosts the Feed The People Program every Friday so the HTH Team will be donating our time to these events starting in 2 weeks.
Thank You for your love & support!!!!